CHEN DE EXO BAJO ESCRUTINIO POR RACISMO!!!

http://www.asiafarandula.net/2018/04/chen-de-exo-bajo-escrutinio-por-racismo.html
Hoy 15 de abril EXO CBX
hizo una transmisión en vivo a a través de la aplicación "V-Live" de Naver para su reciente comeback de su 2do. mini álbum como sub unidad BLOOMING DAYS.
Durante la transmisión llena diversión y juegos, Chen hizo algunos comentarios que llamaron inmediatamente la atención de los espectadores, especialmente de los fanáticos internacionales.
Mientras BAEKHYUN le pintaba la cara el comentó "
Me parezco a
Michol
", dijo mientras se aplicaba el lápiz labial oscuro a sus labios, haciéndolo parecer más grande que sus labios originales.
El Michol del que Chen hablaba era un personaje ficticio de "Dooly el pequeño dinosaurio", y aunque el personaje es de Corea del Sur, está siendo criticado como caricatura de cara negra.
Chen hizo un comentario diciendo nuevamente:
"
Mis labios se ven demasiado gordos
". según la traducción en inglés.
Sin embargo, los espectadores que ni siquiera entienden el coreano escucharon "
¿No es
Kunta Kinte
? Incluso después de que se lanzó el título coreano, tiene la misma traducción.
"
¿No es esto Kunta Kinte? (이거 쿤타)?)
" Podría leerse.
Kunta Kinte resultó ser un personaje de la novela Roots: The Saga of a American Family, que se basa en uno de sus antepasados ​​esclavizado y llevado a América, una mezcla de ficción y no ficción según su autor.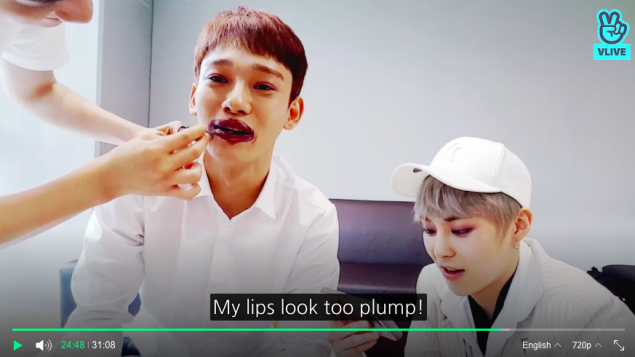 Después de este incidente, Chen recibió continuamente críticas, mientras que otros están defendiendo sus situaciones. ES ACUSADO DE RACISMO POR FANS INTERNACIONALES.
ESPEREMOS QUE NO HAYA PROBLEMA Y QUE CHEN O LA SM ENTERTAINMENT HABLEN ANTE ESTAS ACUSACIONES DE FANÁTICOS Y ANTIFANS DE EXO!!!