KAI EN "THE TIME THAT WE MET" Y MODELO PARA LEVI'S.

http://www.asiafarandula.net/2018/03/kai-en-time-that-we-met-y-modelo-para.html
El próximo drama de fantasía KBS2 Mon-Tues 'The Time That We Met' (traducción literal) ha lanzado algunos primeros cortes de Kai de EXO.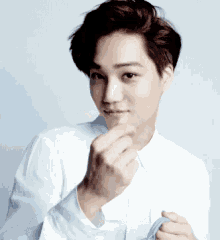 'The Miracle We Met' cuenta la historia de dos hombres con vidas completamente diferentes, pero que comparten el mismo nombre. Un día, terminan cambiando de cuerpo y comienzan a tocar a los que les rodean con sus personalidades cambiadas. Kai interpretará el papel de un apuesto mensajero, llamado Ato. El mensajero es responsable del error crítico que lleva a los dos hombres a cambiar de cuerpo. Ato tiene que ayudar a los hombres, Song Hyun Chul "A" y Song Hyun Chul "B", a fin de redimirse.
Song Hyun Chul "A" será interpretado por Kim Myung Min, y Song Hyun Chul "B" será interpretado por Go Chang Suk. También protagonizada por Kim Hyun Joo, Ra Mi Ran y más, 'The Miracle We Met' se estrenará después del final de 'Radio Romance'.
Mientras tanto, Kai dirigirá el lanzamiento de la campaña de primavera de 2018 de Levi Strauss & Co. en Corea del Sur.
La campaña de primavera, titulada 'Live in Levi's', reúne honradez, música y cultura, y un estilo icónico e inmutable como los elementos clave de la colección de primavera. En un adelanto para el próximo video de la campaña, Kai muestra un poco de su lado despreocupado, mirando a través de varios LP para encontrar su propio estilo de música.